Our DAR™ Eagle App KickStarter Project Has Ended.
Thanks To All Of Our Supporters!
2017 News
Our KickStarter Project for the DAR™ Eagle App Has Ended. Thanks To All Of Our Supporters!
According to the Department of Transportation, there are currently more than 350,000 aircraft registered in the U.S.  With more than 2,500,000 drones sold in 2016 and 6,000 aircraft in flight at any given time in the national airspace, the race is on to save lives and keep our airspace safe. That's why we created a KickStarter project to complete the DAR™ Eagle App. The App will be made available for free, along with unique and collectible CSA thank-you gifts to our supporters! Supporters who donated have been added to our Beta program.  When the App is complete, it will be made available for free to all aircraft maintenance, repair and overhaul companies to make it easy to specify and order the DAR™ system that fits their aircraft.
Our CrowdFunder Campaign Has Ended.
Investors can contact us directly to learn more.
We are currently updating our 2017 Event Calendar.
2016 News
Look for Our Ad In These Conference and Event Guides:
• UTM 2016 – Syracuse NY – November 8-11, 2016
• Drone World Expo – San Jose, CA – November 14-16, 2016
• International Drone Expo – Los Angeles – December 8-10, 2016
We've Teamed Up With NIAS!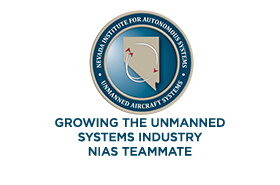 We're proud to team up with the Nevada Institute for Autonomous Systems (NIAS), an FAA-certified drone testing facility here in Las Vegas, Nevada.
CSA Is In the Fennemore Craig Venture Accelerator

The Fennemore Craig Venture Accelerator Program provides CSA with their invaluable expertise and guidance and legal services to protect our intellectual property and to help us launch.